Suction Cups for High Speed Applications
MVS series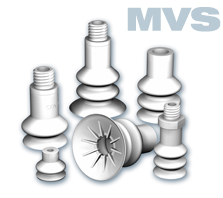 COVAL has designed a range of high performance cups in order to meet demanding industry requirements for gripping soft or flexible products at high speeds. MVS series.

. Soft, thin sealing lip and optional cleats provide a perfect grip during high work rates for all types of flexible shapes and materials.
. Food-grade silicone meets FDA and CE standards.
. Available in 1.5 and 2.5 bellows.
. Available in Ø 20-40 mm.

Applications
This flexibility allows for high speed gripping of all types of materials and foods: FlowPack, DoyPack, thermoformed food trays, raw materials (sausage, fresh fish, cookies, chocolates)...Speeds of 120 or more grip and release cycles per minute.
Materials
. SIB: 35 Shore A white silicone
. SIT5: 50 Shore A Translucent silicone

. Products
. CAD drawing