Ultra-Flat, Non-Marking Suction Cups for handling easily deformed products
VPSC series: Suction Cups for Aerospace and Food industry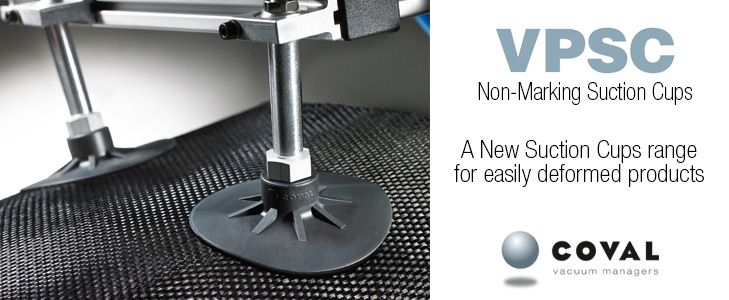 Ultra-Flat, Non-Marking Suction Cups
Developed through partnerships with the composite material industry, the VPSC suction cups are dedicated to the handling of raw composite. Their ultra-flat profile and innovative system of vacuum distribution across the surface of the cups provide optimized gripping with no mark and
no deformation. The extra thin sealing lip contours to the product shape without restriction.
The specific characteristics of these suction cups enable its use in other fields such as cheese handling or other fragile, easily deformed products.
 
The VPSC cups are available in two materials to meet all the applications:
. Polyurethane (PU), high resistance to hydrocarbons and high durability.
. Silicone (SIBL5), food compliance. FDA and CE 1935/2004 standards.
Ø 40 and 80 mm
The VPSC suction cups are equipped with a G1/4" female pressed aluminum fitting.

. VPSC products range